This mix was the easiest and hardest thing ever. Enjoy, chéris. And, it's either going to rain in a couple seconds *points to window* or I can say it already rained today, which is true.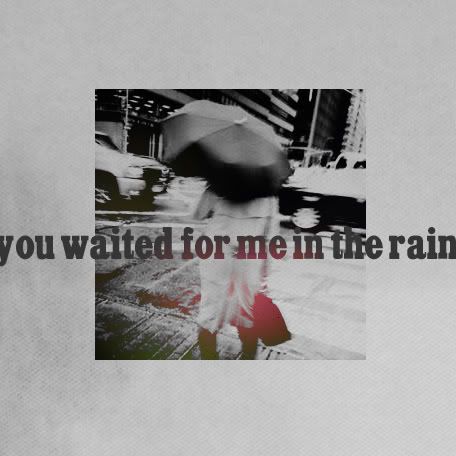 (banner by
crazy_in_lost
@
affairedevanite
)
the sky's wet again
. songs for when you feel like bringing the umbrella inside
01. the shins, sea legs
02. charlotte martin, bones
03. meiko, the piano song
04. israel kamakawio'ole, cover - somewhere over the rainbow
05. alicia keys, diary (featuring tony! toni! toné!)
06. glen hansard & markéta irglová, if you want me
07. ben kweller, falling
08. kate nash, nicest thing
09. vienna teng, now three
10. stars, in our bedroom after the war
11. yann tiersen, la valse d'amélie (piano version)
12. the hush sound, eileen
13. paul mccartney, blackbird
14. steve erquiaga, themes from cinema paradiso

.zip
Music is normally at
musicyardsale
, but hey. We all like to go a little unconventional sometimes.